Programme Overview
Analytical chemistry is the study of the separation, identification and quantification of the chemical components of natural and artificial materials.
Qualitative analysis gives an indication of the identity of the chemical species in the sample and quantitative analysis determines the amount of one or more of these components
Analytical chemistry focuses on improvements in experimental design, chemometrics and the creation of new measurement tools to provide better chemical information. Analytical chemistry is applied in forensics, environmental analysis, materials analysis, drugs analysis, food analysis, bioanalysis, and clinical analysis. As a scientific field of great diversity in its application, students trained in this programme will be in great demand in the chemical related industries.
This programme provides students with a thorough background in analytical chemistry with a strong emphasis on instrumentation and the development of variety of important analytical skills. This programme focuses on giving hands-on experience to students on
some of the major analytical techniques for analysing samples from a wide range of sources and equips graduates with a broad solid foundation in Chemistry.
It is also designed to meet industries' need for capable, dynamic and innovative graduates with well-developed technical skills and a sound theoretical knowledge in analytical chemistry. This programme is endorsed by Institut Kimia Malaysia (IKM). Graduates of this programme can join IKM as a member and can be recognised as a 'Registered Chemist' in Malaysia.
Minimum Entry Requirements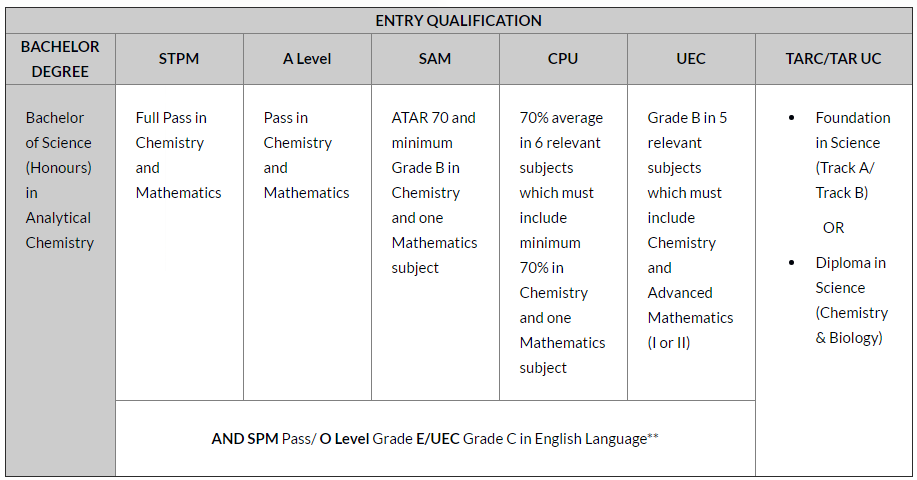 Note:
a) The entry requirements must be taken from only ONE (1) examination sitting.
b) Students without a credit in SPM Bahasa Malaysia are required to pass Bahasa Kebangsaan A before the award of Bachelor Degree.
c) TARC/TAR UC Diploma will be accepted on credit transfer into Bachelor Degree programmes.
d) Equivalent qualifications other than the above will be considered on a case-by-case basis.
e) Information is correct at the point of printing. Subject to the Ministry of Education latest requirements.
Requirements for Campbell University Dual Awards Bachelor Degree:
TARC / TAR UC Diploma graduates or students promoted from TAR UC Bachelor Degree Year 1
Must be a current student of TAR UC pursuing TAR UC Bachelor degree programme Year 2 or Year 3
Updated: 1 December 2016 (subject to change)
Programme Structure
Chemical Laboratory I
Chemical Laboratory II
Chemical Laboratory III
Chemical Laboratory IV
Chemical Laboratory V
Physical Chemistry
Organic Chemistry
Inorganic Chemistry
Analytical Chemistry
Properties of Matter and Chemical Energetics
Chemistry of Elements and Organic Compounds
Kinetics, Mechanisms and Stereo chemistry
Thermodynamics and Electrochemistry
Spectroscopy and Properties ofOrganic Compounds
Polymer Chemistry
Polymer Characterisation & Thermal Analysis
Materials Science
Chemical Lab Management
Transition Elements and Coordination Compounds
Food Chemistry and Analysis
Instrumental Methods of Chemical Analysis

Environmental Chemistry and Analysis
Analytical Method
Development and Validation Environmental Pollution
Control
QA and QC in Good Laboratory
Practices
Project
Industrial Training or 2 elective
courses
Calculus and Algebra
Basic Statistical Methods for
Scientific Analysis
Elective I
Elective II
Elective Courses (Choose 2)
– Chemical Safety and
Security
– Solid State Chemistry
– Cosmetic Chemistry
– Medicinal Chemistry
– Organometallic Chemistry
– Occupational Safety &
Health
– Surface and Colloid
Chemistry
– Industrial Organic Chemistry
Career Prospects
Graduates of this programme will have the employment opportunity in the following analytical chemistry related careers:
Research Scientists
Analytical Chemists in commercial laboratories
Quality Control/Assurance Chemists
Laboratory Supervisors
Product Chemists (Analytical Instrumentation)
Occupational Health and Safety Specialists
Environmental Impact Assessment (EIA) Officers (Chemistry aspect)
Product Development Chemists (pharmaceutical area, food industry, cosmetic industry, polymer industry, etc)
Product Specialists