Programme Overview
The skills gained from a degree in sports and exercise science could certainly fire the starting gun for an interesting and rewarding career. Graduates equipped with a good knowledge of the sports and exercise science enable them to look at the science behind health and fitness, as well as an insight into related areas such as nutrition, psychology and management. Demand is growing for sports scientists and performance consultants, as society in general develops a greater awareness of health and fitness issues around work.
This programme provides the students an opportunity to work with industry through their internship and to carry out a real-life research project on sports and exercise science. All such training will add value to their qualification and later to their employment opportunities.
Minimum Entry Requirements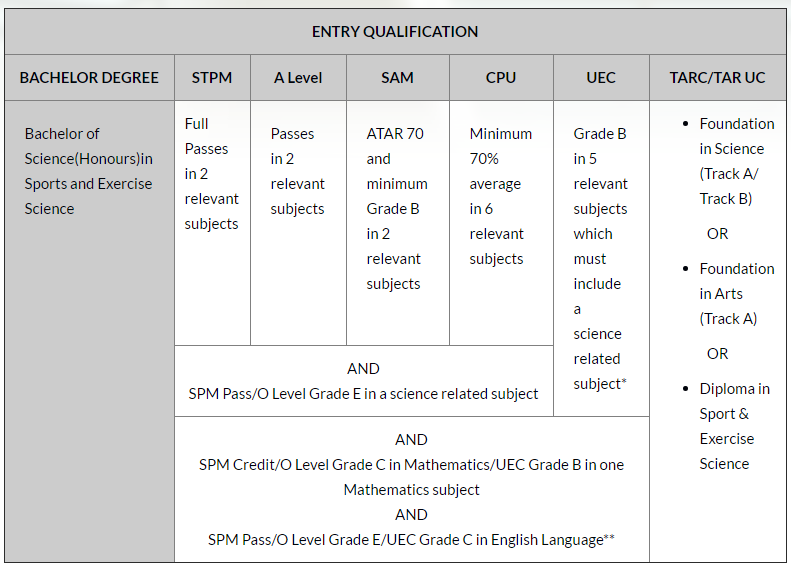 Note:
a) The entry requirements must be taken from only ONE (1) examination sitting.
b) Students without a credit in SPM Bahasa Malaysia are required to pass Bahasa Kebangsaan A before the award of Bachelor Degree.
c) TARC/TAR UC Diploma will be accepted on credit transfer into Bachelor Degree programmes.
d) Equivalent qualifications other than the above will be considered on a case-by-case basis.
e) Information is correct at the point of printing. Subject to the Ministry of Education latest requirements.
Requirements for Campbell University Dual Awards Bachelor Degree:
TARC / TAR UC Diploma graduates or students promoted from TAR UC Bachelor Degree Year 1
Must be a current student of TAR UC pursuing TAR UC Bachelor degree programme Year 2 or Year 3
Updated: 1 December 2016 (subject to change)
Programme Structure
Human Anatomy and Physiology
Introduction to Sport Science
Foundation of Fitness and Exercise
Sport Psychology
Principles of Coaching
Basic Biomechanics
Sport Injuries and Prevention
Motor Control and Learning
Sport Nutrition
Sport and Exercise Psychology
Biomechanical Analysis of Human Movement
Exercise Physiology
Testing and Measurement in Sport & Exercise
Applied Exercise Physiology
Exercise Testing and Prescription
Research Project
Research Methodology in Sport &Exercise
Sport & Exercise for Special Population
Internship/Industrial training
Core Elective (Choose 6)
– Applied Sport Nutrition
– Exercise and Rehabilitation
– Sport Coaching
– Strength and Conditioning
– Physiological Testing and
Training
– Performance assessement
for Sport
– Clinical Exercise Testing
– Health, Fitness and Disease
– Behavior Modification in
Sport & Exercise

Games Elective (Choose 4)
– Games I: Gym Workout and
Swimming
– Games II : Tennis and
Gymnastics
– Games III: Track & Field
– Games IV: Basketball and
Badminton
– Games V: Golf and Squash
– Games VI: Fencing
– Games VII: Advanced
Gymnastics
Language, Mata Pelajaran Pengajian Umum (MPU) and Co-curricular Courses:
English Language, Tamadun Islam dan Asia, English for Communication, Hubungan Etnik, English for the Profession, Entrepreneurship, Bahasa Kebangsaan A, Contemporary Malaysian Issues, Co-curricular
# This programme is a Bachelor of Science Degr ee, not Bachelor of Engineering Degree
Note: General College Curriculum and Liber al Arts requirements must be fulfilled for Campbell Univ ersity BS Degree programme
Career Prospects
Graduates of this programme will have the employment opportunity in the following Sport and exercise science related careers:
Health & Fitness Industry
Fitness Coaching
Sport Administrators
Health & Lifestyle Consultancy and Management
Teachers (Private)
Lecturers
Event Managers
Sales Managers
Senior Executive Officers
Student Liaison Officers
Sports Development Officers
Sports Officers/ Administrators
Sports Facilities Maintenance Personnel
Public Relations Personnel
Personnel Trainers
Fitness Trainers/ Advisors
Fitness/Gym Instructors
Fitness Sales Consultants
Sales/Marketing Executives
Management Executives