Programme Overview
Emphasis is on analysis, development and implementation of computer systems, as well as mathematical techniques for financial and managerial applications.
Academic Progression
Graduates may be admitted into Year 2 of:-
• Bachelor of Science (Honours) in Management Mathematics with Computing
• Bachelor of Information Technology (Honours) in Software Systems Development
Minimum Entry Requirements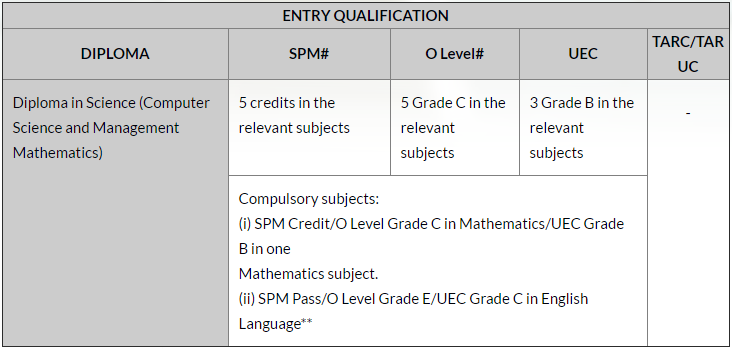 # Students with 3-4 relevant credits in SPM/Grade C in 3-4 relevant subjects in O Level may be considered for the Diploma programmes offered at the Perak Branch Campus (PK), Johor Branch Campus (JH), Pahang Faculty Branch (PH) and Sabah Faculty Branch (SB).
** Grade C and above in AELE0364 English Language (1119 Level) conducted by TAR UC is accepted as having fulfilled the English Language requirement for applicants who fail English Language at SPM/O Level/UEC level.
Note:
a) SPM holders must have at least a pass in Bahasa Malaysia and SPM holders from Year 2013 onwards must have at least a pass in Sejarah.
b) The entry requirement must be taken from only ONE (1) examination sitting.
c) Students without a credit in SPM Bahasa Malaysia are required to pass Bahasa Kebangsaan A before the award of Diploma.
d) Equivalent qualifications other than the above will be considered on a case-by-case basis.
e) Information is correct at the point of printing. Subject to the Ministry of Education latest requirements.
Updated:1 December 2016 (subject to change)
Programme Structure
Introduction to Information Technology
Programming Concepts and Design I
Programming Concepts and Design II
Principles of Information Systems
Web Design and Development
Analysis and Design of IS
Analysis and Design of IS Case Study
Object-Oriented Programming Techniques
Windows Application Programming
Database Development and Applications
Basic Mathematics I
Basic Mathematics II
Basic Algebra
Basic Calculus
Statistics I
Statistics II
Calculus I
Calculus II
Discrete Mathematics
Algebra
Mathematics for Management
Accounting Methods I
Accounting Methods II
Language, Mata Pelajaran Pengajian Umum (MPU) and Co-curricular Courses:
English Language, English for Communication, Bahasa Kebangsaan
A, Pengajian Malaysia 2, Public Speaking, English for IELTS, Civic
Consciousness and Volunteerism, Co-curricular
Career Prospects
Programmers
End-user Support Staff
Assistant System Analysts
IT Administrators or Executives
Systems Officers
Database Administrators
Web Designers