Programme Overview
Graduates of this programme will be able to develop, manage and maintain high-quality software in a systematic, controlled and efficient manner. In addition to fundamentals of computing, students will develop their specialisation by going through some of the following courses: Systems Analysis and Design, Software Engineering, Software Requirements Engineering, Software Design and Architecture, Formal Methods for Software Engineering, Software Quality and Testing, Software Evolution and Maintenance and Software Project Management.
Electives courses like Introduction to Computer Security, Advanced Database Management, Mobile Application Development, Web Application Development, Distributed Computer Systems, Data Science and Cloud Computing will be offered to students undergoing this programme.
Students will have an opportunity to work with industry through their 6 months industrial training and carry out real-life projects on software
engineering. All such training will add value to their qualification and increase their employment opportunities.
Minimum Entry Requirements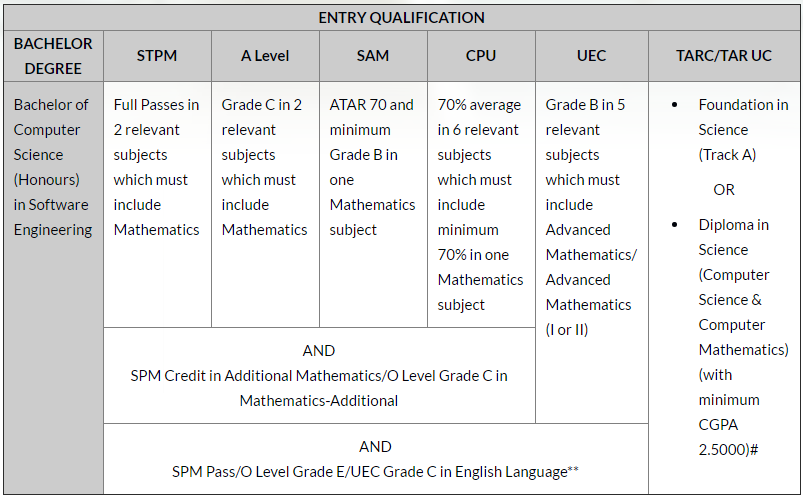 # Graduates with CGPA below 2.5000 are required to sit and pass a Qualifying Test.
** Grade C and abo ve in AELE0364 English Lan guage (1119 Level) conducted by TAR UC is accepted as having fulfilled the English Language requirement for applicants who fail English Language at SPM/O Level/UEC level.
Note:
a) The entry requirements must be taken from only ONE (1) examination sitting.
b) Students without a credit in SPM Bahasa Malaysia are required to pass Bahasa Kebangsaan A before the award of Bachelor Degree.
c) TARC/TAR UC Diploma will be accepted on credit transfer into Bachelor Degree programmes.
d) Equivalent qualifications other than the above will be considered on a case-b y-case basis.
e) Information is correct at the point of printing. Subject to the Ministry of Education latest requirements.
Requirements for Campbell University Dual Awards Bachelor Degree:
TARC / TAR UC Diploma graduates or students promoted from TAR UC Bachelor Degree Year 1
Must be a current student of TAR UC pursuing TAR UC Bachelor degree programme Year 2 or Year 3
Updated: 1 December 2016 (subject to change)
Programme Structure
Problem Solving and Programming
Database Management
Introduction to Computer Systems
Object-Oriented Programming
Research Methods
Data Structures and Algorithms
Software Engineering
Social and Professional Issues
Artificial Intelligence
Software Quality Assurance and
Testing
Software Requirements
Engineering
Software Design and
Architecture
Software Project Management
Modelling and Simulation
Formal Methods for Software
Engineering
Software Evolution and
maintenance
Graphic Programming
Systems Analysis and Design
Introduction to Computer
Networks
Web Design and Development
Human Computer Interaction
Probability and Statistics
Discrete Mathematics
Further Discrete Mathematics
Project I
Project II
Industrial Training (6 months)
Electives (Choose 4)
– Distributed Computer Systems
– Advanced Database Management
– Web Application Development
– Introduction to Computer Security
– Mobile Application Development
– Data Science
– Cloud Computing
– Introduction to the Short Story
– Music Appreciation
Language, Mata Pelajaran Pengajian Umum (MPU) and Co-curricular Courses:
English Language, Tamadun Islam dan Asia, English for Communication, Hubungan Etnik, English for the Profession, Entrepreneurship, Bahasa Kebangsaan A, Contemporary Malaysian Issues, Co-curricular
Note: General College Curriculum and Liber al Arts requirements must be fulfilled for Campbell Univ ersity BS Degree programme
Career Prospects
Graduates of this programme will have the employment opportunity in the following computing careers:
Software Engineers
Software Testers
Software Quality Assurance Engineers
Software Developers
Software Architects
Systems Analysts
Web Developers
Mobile Application Developers
IT Consultants
IT Managers