HIGHLIGHTS / NEWS
See all news >>
14 November 2017
EZRide App Beta Launch at TAR UC
The beta launch of the TAR UC EZRide app was held on 23 October 2017 at the Auditorium in TAR UC Kuala Lumpur Main Campus. The unique app which is a collective effort between staff and students from the Faculty of Computing and Information Technology ('FOCS') in collaboration with Easyjoy Entertainment Sdn Bhd, aims to provide students with a better bus service.
Click to read more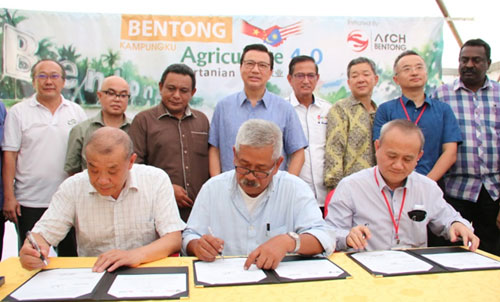 13 November 2017
TAR UC Collaborates with Peking University on Bentong Ginger Research
A tripartite Memorandum of Understanding ('MoU') was signed by TAR UC, Dongguan Institute of Opto-Electronics, Peking University and Persatuan Budaya Seni dan Warisan Bentong on 28 October 2017 which paves the way for research on "Agriculture 4.0 – Bentong Ginger R&D". Dato' Sri Liow Tiong Lai, Chairman of the Board of Trustees, TARC Education Foundation and Board of Governors, TAR UC, and Minister of Transport, Datuk Dr Tan Chik Heok, President of TAR UC, Prof Dato' Dr Mohammad Najib bin Ahmad Dawa, President of ARCH Bentong and Prof Zhang Guoyi, Executive Vice Director, Dongguan Institute of Opto-Electronics, Peking University, were present for the MoU signing ceremony.
Click to read more
10 November 2017
Another Significant Recognition for TAR UC by Chartered Institute of Marketing
Datuk Dr Tan Chik Heok, in his welcome address, highlighted how the professional qualification from CIM would provide a competitive advantage to TAR UC students. "The collaboration between TAR UC and CIM come naturally since both take seriously the shared responsibility of producing such much needed professional marketers for the country and for this region. The collaboration with CIM, a leading international professional marketing body recognised by industry leaders all over the world will provide a pathway for our students to obtain additional professional qualification that will provide them with a competitive edge over others. This professional qualification will value-add the academic degree qualification offered by TAR UC and will be a testimony that TAR UC students have industry-relevant knowledge and skills set required by the industry," he clarified.
Click to read more
ACHIEVEMENTS
See all achievements >>
5 October 2017
TAR UC Students Win Top Prizes While Spreading Message of Unity
For 6 TAR UC students studying the Bachelor of Communication (Hons) in Broadcasting, their National Day celebration was made more meaningful when the videos they produced for the Genting Malaysia National Day Short Video Contest 2017 were among the top three videos in the competition. The students who worked in teams of three each attended the prize giving ceremony on 7 September 2017 where each team won a cash prize of RM3,000 and each student received a certificate of achievement.
Click to read more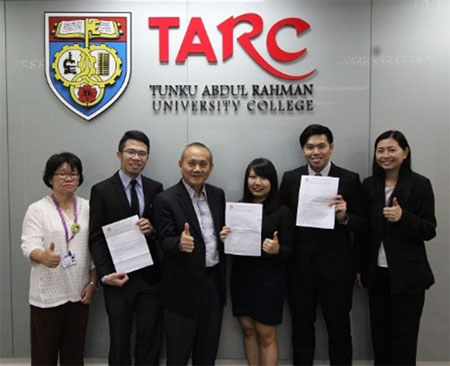 28 September 2017
TAR UC Trio Excel in ICSA Examinations
TAR UC's track record of producing high achievers in professional examinations remains unchallenged with the latest achievement set by three TAR UC Bachelor of Corporate Administration (Hons) graduates in the ICSA IQS Part 2 June 2017 examinations where they emerged as book prize winners in the said examinations. Lim Ka Way was named the recipient of the AmBank Group Prize for the best paper in Corporate Financial Management and Ng Kok Loong received the Telekom Malaysia Berhad Prize for the best paper in Corporate Administration. Meanwhile, Ong Shu Yee is the Tricor Corporate Services Prize winner for the best paper in Corporate Secretaryship.
Click to read more
27 September 2017
TAR UC Receives Prestigious Recognition
TAR UC achieved yet another milestone this year having been accorded prestigious recognition as the Premier Digital Tech University by the Malaysia Digital Economy Corporation ('MDEC') and the Ministry of Higher Education ('MOHE') at an award presentation ceremony held on 28 August 2017. This recognition further cements TAR UC's position as one of the leading institutions of higher learning in the field of information and communication technology ('ICT'). TAR UC is one of the eight local universities to be awarded Premier Digital Tech University by MDEC and MOHE.
Click to read more
Upcoming Events
See all Upcoming Events for the year>>