HIGHLIGHTS / NEWS
See all news >>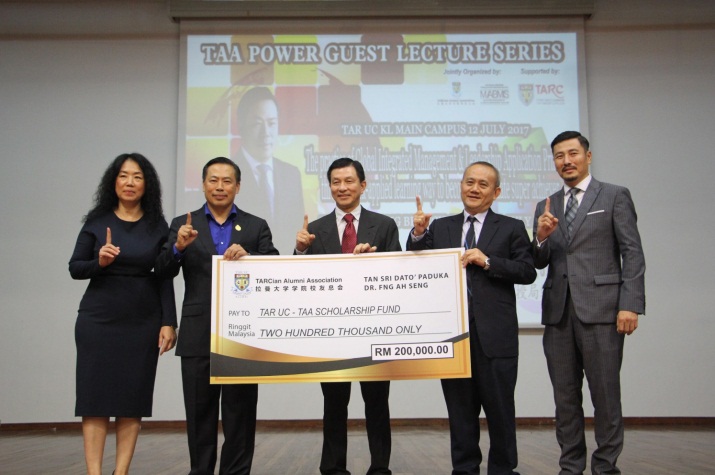 26 July 2017
Secrets of Success Revealed to TAR UC Students
It's not every day that you will meet a man of many talents who excels in achieving his goals. Jointly organised by the TARCian Alumni Association ('TAA') and the Malaysian Association of Business Management Scholars ('MABMS'), TAR UC students had the privilege of attending a talk by Tan Sri Dato' Paduka Professor Dr Fng Ah Seng as he shared his secret to success on 12 July 2017 at the UC Main Hall.
Click to read more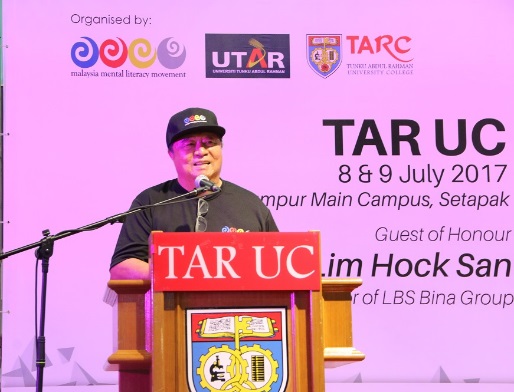 24 July 2017
An Exploration of Power of Mind at TAR UC
The annually held Festival of the Mind made a comeback in its 13th iteration which was successfully held on 8 – 9 July 2017 at the Sports Complex in TAR UC Kuala Lumpur Main Campus. The festival was jointly organised by Malaysia Mental Literacy Movement ('MMLM'), TAR UC and Universiti Tunku Abdul Rahman ('UTAR'). The theme of this year's festival was 'GREAT MIND. Be Part of Greatness'.
Click to read more
18 July 2017
TAR UC Hosts Openet Cash4Code Programming Competition
Once again, Openet Cash4Code Programming Competition was held in TAR UC on 4 July 2017, marking the third time the competition was held at TAR UC. Organised and sponsored by Openet and hosted by the Faculty of Computing and Information Technology ('FOCS') and the Computer Science Society of TAR UC, this year's competition was the first time it was open to participants from other institutions of higher learning namely Asia Pacific University ('APU'), Universiti Malaya and Universiti Tunku Abdul Rahman. This resulted in the total number of participants reaching 101 students.
Click to read more
ACHIEVEMENTS
See all achievements >>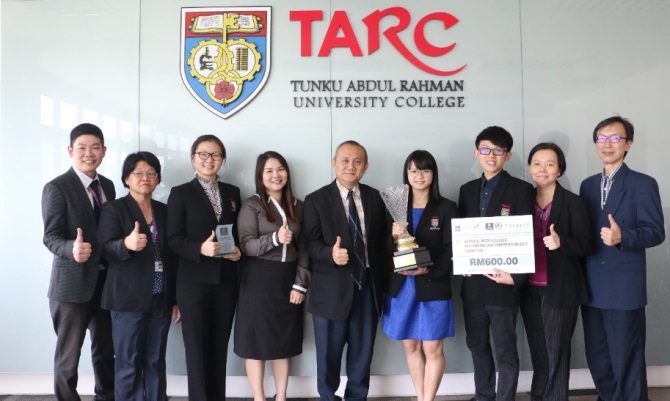 3 July 2017
Hard Work Pays Off for TAR UC Students in National Inter-College Accounting Quiz
Three hardworking and determined students from TAR UC completed their Diploma in Business Studies (Accounting) with a huge success by emerging as the Champion team in the National Inter-College Accounting Quiz Competition 2017. The competition was held on 22 April 2017 which saw the participation of 61 teams made up of 183 participants from 37 institutions of higher learning from all over the country.
Click to read more
3 July 2017
TAR UC Student Named CIMA Prize Winner in Management Case Study
Emerging as the CIMA Prize Winner in Management Case Study 2016 certainly came as a delightful surprise for Michelle Cheong, a Bachelor of Accounting (Hons) graduate.Currently working as an audit associate for a mid-tier audit firm, Michelle attributed her success to the unconditional love and support that she received from her mother, as well as the ability to learn from past failures.
Click to read more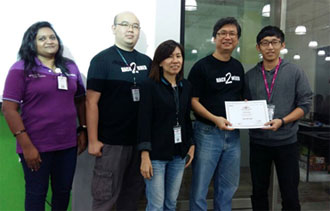 16 June 2017
HACK2HIRED 2017
TAR UC students have once again proven their ability to apply their skills and knowledge from the classroom into real-life situations, when Lim Jian Han, a Year 3 Bachelor of Computer Science (Hons) in Software Engineering student, emerged as Champion in the Mini Hack Challenge (Java) category in the recent HACK2HIRED 2017 software hackathon event. He brought home a cash prize of RM1,000 and a certificate. It was a double-win for him as Jian Han together with two of his classmates, Ng Chun Chet and Phor Joon Huang, emerged as the 2nd Runner Up in the Main Hack Challenge category. They received certificates and a cash prize of RM1,000.
Click to read more
Upcoming Events
See all Upcoming Events for the year>>